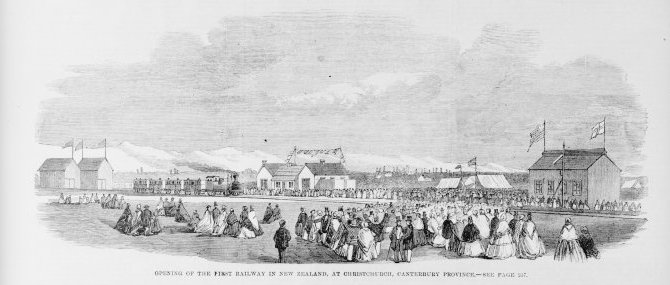 This image shows the opening of the first section of the railway line between Christchurch and Lyttelton at Ferrymead, Heathcote. The event, was watched by large crowds of people on both sides of the line, and shows a small steam train on the left and buildings decked with flags on the far side of the railway line. 
Ferrymead was the birthplace of railways in New Zealand. The place where hill and plain first echoed to the piping screech of a steam locomotive's whistle. Ferrymead was where the first locomotive "Pilgrim" of 5 ft. 3 in. gauge, was landed in May 1863. It is situated on rather low-lying ground at the foot of the Port Hills just where the Heathcote river joins the estuary. The embankment, after leaving the Heathcote, curves away towards Christchurch and joins the line of the Lyttelton – Christchurch tracks, a little south of the present Woolston yards. Another arm swings off towards the Heathcote yards and was used to bring material to the working-site when tunnelling operations commenced on the Lyttelton tunnel. Thus for four years, Ferrymead enjoyed its heyday. Whilst tunnelling was pushed ahead, goods were brought by small ketches, cutters, steamers, and lighters over the dangerous Sumner Bar, and transhipped to rail at the Ferrymead wharf. Once the tunnel was opened, in 1867, Ferrymead rapidly declined and soon after was closed, thus being not only the first line open, but also, the first to close.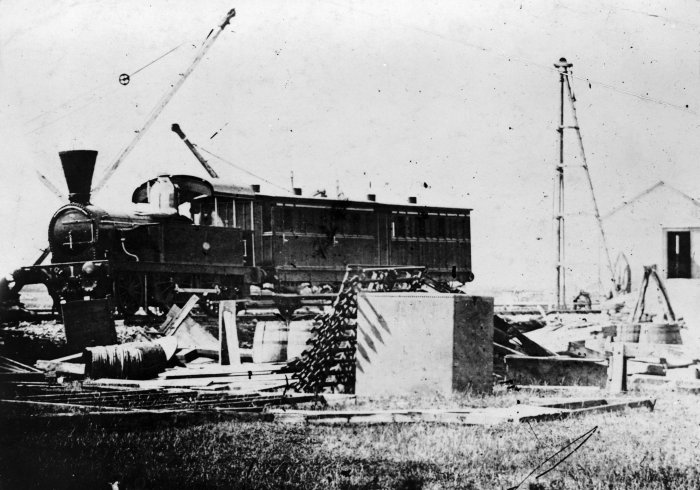 This early photo shows the steam locomotive known as "Pilgrim" (Canterbury Railways No.1) c.1865.